About Jo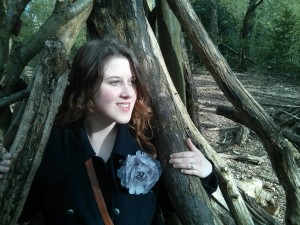 Jo Brandon was born in Essex in 1986, raised in rural Lincolnshire, she went on to study Creative Writing at the University of Leeds graduating in 2007. She is currently based in Bradford, West Yorkshire.
Her debut poetry pamphlet, Phobia, was published by Valley Press in January 2012 and her first full-length collection, The Learned Goose was published by Valley Press in December 2015.
Her poetry, short prose and non-fiction writing have appeared in a variety of publications including Poetry Review, Butcher's Dog, The North, Dream Catcher, Magma, Mslexia, Aesthetica, and Cake. Between 2008-11 Jo was an editor for Cadaverine Magazine.
Jo has also undertaken writing residencies with the I Love West Leeds festival and a writer's development residency with the West Yorkshire Playhouse funded by the BBC.  Jo also organises and delivers poetry workshops for young people and adults and enjoys organising and performing at literary events from localised open mike nights to national Literature Festivals. During Summer 2012 Jo was a Young Producer and Events Co-ordinator for Poetry Parnassus (part of the Festival of the World 2012) at SouthBank Centre.
Jo has also worked for a number of fantastic arts organisations including the Koestler Trust, the Poetry Society and the Poetry School.